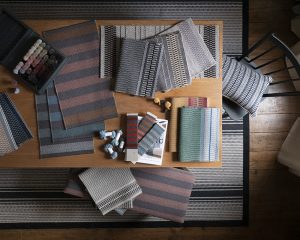 Heritage designs, contemporary colour.
One of the most enduring styles of runner is the border pattern – versatile when used with a coordinate on stairs and landings or when seamed together for larger areas.
The Borders collection was developed by closely studying The Roger Oates our current and archive collections and celebrates the versatility of how a border pattern can be used alone or as part of a scheme. Each of the new designs were carefully created to work well as single width runners, but will transform when seamed together into larger pieces for rugs and wall to wall areas. Furthermore, all the designs have been considered to not only co-ordinate within the collection but with other existing Roger Oates designs.
Colours sophisticated with a modern edge. Tones of Chalk, Taupe and French Grey for Soft understand elegance. The dark Ground in Eldon uses a brand new tone called Lamp Black which lends all three colourways an intense warmth as well as depth of colour. The collection also features rich jewel tones of Juniper and Gold. Finally, there is the classic high contrast monochrome stone.
The versatility of The Borders Collection allows you to mix designs and colourways to create a truly personalised interior. Which combination would you choose?