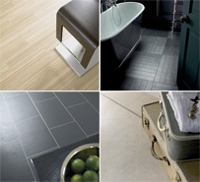 Amtico's flagship brand pioneered a new product category that combines the look of natural materials with the unrivalled performance benefits.
Amtico has over 40 years experience in designing, engineering and manufacturing flooring has led to an unrivalled collection of over 200 Wood, Stone and Abstract products which allows customers to create a truly unique floor. The range is exclusively designed for the home by Amtico International's in-house design team and offers bespoke design for those seeking inspiration.
There is a huge selection to choose from – choices for traditional, classic and contemporary interiors – that suit any room and any style. A range of coordinating finishing touches and borders are also available to create a theme or trims to add sophistication to a scheme.
Amtico is suitable for all areas within the home and is water, slip and dent resistant. Also due to the unique Urethane coating Amtico is scratch, scuff and stain resistant.
Amtico comes with a 20 year transferable guarantee against wear out.
Request a Quote
Let us visit your home to take accurate measurements and provide you with a quote.
Showroom
We are open six days a week and stock an extensive range of high quality products.